Why Choose Troentorp?
The efforts of generations of craftsmen have resulted in Troentorp's distinctive style and comfort. While there have been many improvements over the years, the craftsmanship and the simple natural materials used are still the sameas at the beginning of the 20th century.
Our anatomically shaped footbeds have been developed over the years to give support and an even weight distribution across the foot. This is achieved with a raised heel and arch support, which puts the foot in an optimal angle for support and posture.
While we varnish the sides of the wooden bottoms, the footbed of the clogs are never varnished so that the foot is in contact with natural wood and leather rather than synthetic materials. The alderwood provides a natural antibacterial foot climate and excellent moist absorption. Our especially developed lasting and nailing machinery and techniques ensures ultimate fit and shape retention as well as our unique Troentorp look.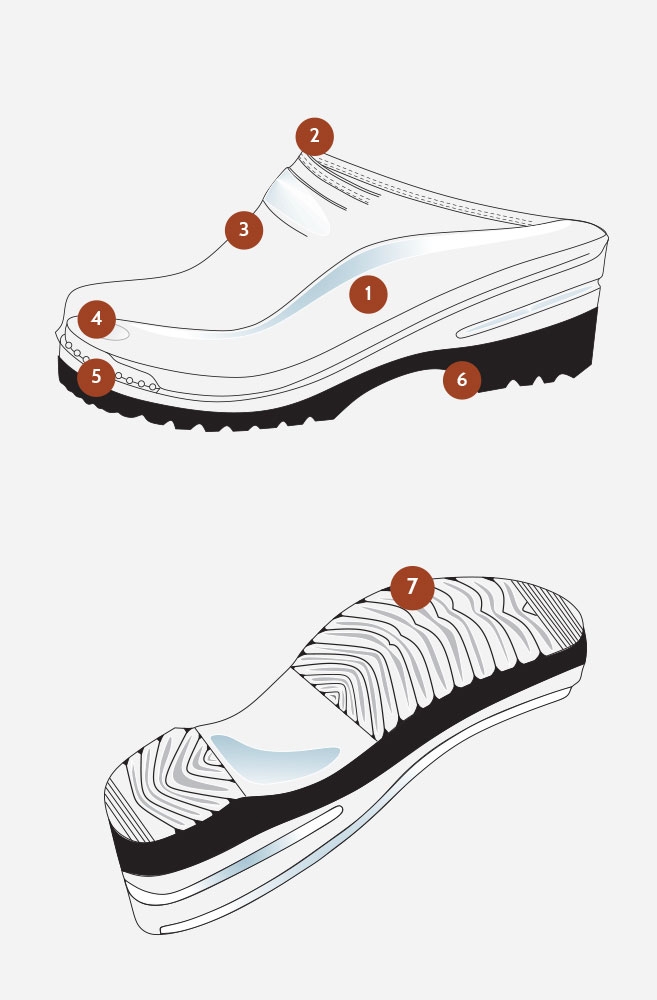 1. Wooden Footbed
The alderwood footbed is not varnished so the foot is in contact with natural wood which provides a natural antibacterial foot climate. Alderwood absorbs moisture and helps keeping the feet dry and happy during long working days.
2. Width
Widths of instep vary so it is important to choose the right model and last. Choose a model with padded instep for extra support or wooden clogs with laces or adjustable straps for flexibility.
3. Leather Upper
Each cowhide upper is carefully prepared and wet-lasted to give the wooden clogs maximum comfort and durability.
4. Toe Indentation
Indentation for the big toe for increased comfort when standing in your clog sandals.
5. Nails
Real nails are used instead of staples. Most Swedish clogs are made with staples but the nails give Troentorp their characteristic look.
6. Anatomical Footbed
The bottoms are constructed to promote even weight distribution across the foot. The raised heels and extra arch support help reduce lower back strain and discomfort for the legs and feet.
7. Thick PU Outsole
Our Ideal bottoms are constructed with a footbed of alderwood and a thick PU sole, which make the clog sandals softer and quieter to walk in.